Meet Dr David McRae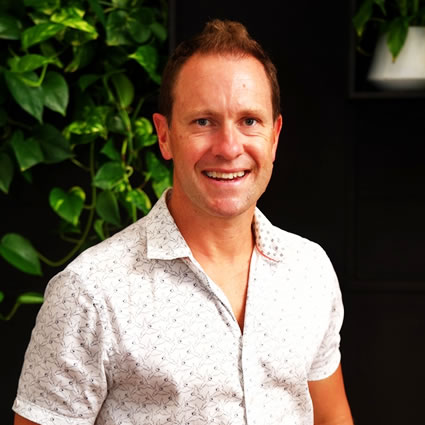 Chiropractor Kinesiologist
A chiropractic patient since early childhood, David understands the value of chiropractic care in the holistic care and maintenance of a healthy body. He also finds preventative chiropractic care highly valuable.
"What I find most rewarding about chiropractic is it's a natural form of healing healthcare that can assist with diverse and numerous aspects of health."
Education, Experience & Qualifications
In addition to earning his B App Sc (Clin Sc) B Chiro Sc. from the Royal Melbourne Institute of Technology (RMIT) in 1998, he also possesses postgraduate qualifications in Occupational Health & Safety (Grad Cert OH&S in Ergonomics) and also Animal Chiropractic (Grad Cert Animal Chiro).
With over 20 years' experience, David is a sacro-occipital practitioner and member of the International College of Applied Kinesiology.
Helping You Stay in the Game
Whatever your sport of choice, David may help you perform at your athletic best with sports chiropractic. He enjoys working with athletes of all ages and skill levels. As an athlete himself, David finds it rewarding to help patients achieve their fitness goals.
Explore Our Services »
Is Your Workstation Ergonomically Optimised?
If you experience posture problems, neck pain or back pain during your workday, you may want to have an ergonomics assessment. David is certified in ergonomics after completing certification through post-graduate coursework, and looks forward to sharing his knowledge with patients who are seeking ways to improve their wellness through ergonomics.
Ensuring Your Four-Legged Friend Is Well Adjusted
Did you know that animals may benefit from chiropractic care, just like people? Because an animal's spine may get out of alignment, David can provide adjustments to restore proper function. He provides this animal chiropractic service outside the practice.
Staying Active
Outside the practice, David is a keen sportsman and active weekend warrior. He's a member of Sports Chiropractic Australia and has a special interest in fitness, diet & nutrition. He also enjoys reading and spending time with his family.
Book an Appointment
Contact us today to schedule an appointment with David!

Dr David McRae | 03 9866 5355